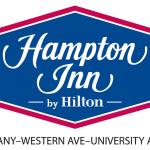 Hampton Inn Western Avenue
We are looking for people that have a passion to serve others through preparing and serving the daily breakfast buffet and/or a manager's reception! Your friendly smile and cheerful customer service attitude will set the tone for our guests to enjoy what the day will bring them. Your role is key to the overall experience the guest will have. If you enjoy engaging with others and have a winning personality and high sense of responsibility – this role is perfect for you!
Full Time Associates will receive the following:
Competitive Pay
Paid Time Off – Holiday, Vacation and Sick Days
Great Benefits including Medical and Dental Insurance
Voluntary Short-Term Disability Insurance
401K Retirement Program
Hilton and Turf Hotel Employee Room Night Discounts
As a Breakfast Attendant you will be responsible for giving our guests the best hospitality experience, they can have by:
Greet and interact with each guest
Communicate and follow through with possible special requests made by guests
Set up and maintain the breakfast buffet and/or dinner reception as required by brand standards
Follow specific menu requirements as provided by the brand
Prepare foods such as sausage, eggs, muffins, pastries, waffle mix, fresh fruit, coffee and juices from concentrates etc.
Stock and refill coffee, juice and milk machines or dispensers
Set up serving dishes/trays, utensils, cups and other paper products
Restock items consistently throughout the breakfast and/or dinner reception hours and for the next day
Clear, clean and sanitize tables as guests vacate
Keep breakfast area clean, stocked and organized. This includes removing trash, cleaning buffet area, kitchen counters, cabinets, and floors
Wash serving equipment including dishes and silverware and return to storage
Put away food deliveries in proper locations
Maintains and promotes a positive and cooperative work relationship with all hotel departments.
Performs any other duties as requested by your supervisor/manager
EXPERIENCE: Previous food and beverage experience required.
ESSENTIAL FUNCTIONS: Requires ability to walk and stand during entire work shift. Requires ability to reach, stretch, and bend in routine daily work activities. Requires ability to lift 25 – 35 pounds intermittently during the work day.
Must be able to work a flexible schedule that will include days, evenings, weekends and holidays.