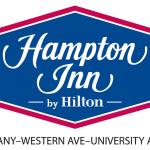 Hampton Inn Western Avenue
We are looking for people that have a passion to serve others! Working at the front desk means you are at the hub of the hotel with the most interaction with our guests. Your role is key to the overall experience the guest will have. Your keen sense of being proactive, responsive and caring will make all the difference. If you enjoy engaging with others and have a winning personality and high sense of responsibility – this role is perfect for you!
Full Time Associates will receive the following:
Competitive Pay
Paid Time Off – Holiday, Vacation and Sick Days
Great Benefits including Medical and Dental Insurance
Voluntary Short-Term Disability Insurance
401K Retirement Program
Hilton and Turf Hotel Employee Room Night Discounts
As a Front Desk Associate you will be responsible for giving our guests the best hospitality experience, they can have by:
Assisting guests efficiently, courteously and professionally at all times
Maintain a high level of service and hospitality
Promptly and effectively deal with guest concerns or issues and see all are met to satisfaction in timely manner
Post guest charges, collect payments and follow all cash handling procedures as required by the Hotel
Be knowledgeable of the hotel brand and various programs (rewards programs, special offers)
Be a great communicator to various departments and management on guest comments and concerns
Respond quickly to incoming calls, lobby visitors and team members needing front desk assistance
Maintains and promotes a positive and cooperative work relationship with all hotel departments
Have full knowledge of hotel safety and emergency procedures
EDUCATION/EXPERIENCE: High School Diploma. Experience in working with the public in a service industry or in related activities is preferred.
ESSENTIAL FUNCTIONS: Requires ability to walk and stand during entire working period of 8 hours; requires ability to lift 10 – 15 pounds.
Must be able to work a flexible schedule that will include days, evenings, weekends and holidays.