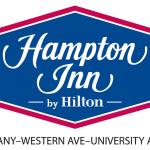 Hampton Inn Western Avenue
Housekeeping is the perfect department for someone who likes to clean, enjoys being active throughout the day, likes to make customers happy through their work, and thrives in a hospitality environment. You enjoy cleaning and making sure everything's in its place. You pitch in to help housekeeping with heavy lifting and attend to guest needs.
Full Time Associates will receive the following:
Competitive Pay
Paid Time Off – Holiday, Vacation and Sick Days
Great Benefits including Medical and Dental Insurance
Voluntary Short-Term Disability Insurance
401K Retirement Program
Hilton and Turf Hotel Employee Room Night Discounts
As an Operations Associate you will be responsible for giving our guests the best hospitality experience, they can have by:
Clean designated areas including, but not limited to, restrooms, public areas, offices and banquet/meeting/conference rooms
Perform tasks including, but not limited to, dusting and polishing furniture and fixtures, vacuuming, mopping, sweeping, shampooing carpets, washing windows, cleaning/waxing floors, removing and disposing of trash and emptying ashtrays
Greet guests in a friendly manner
Report maintenance deficiencies and items in need of repair
Stock and maintain supply rooms, as needed
Perform deep cleaning tasks and special projects (for example: mattress flipping, furniture moves, etc.), as needed
Deliver guest requests and assist in cleaning guest rooms, as needed
Maintains and promotes a positive and cooperative work relationship with all hotel departments.
Performs any other duties as requested by your supervisor/manager
EXPERIENCE: Previous housekeeping experience helpful, but not required.
ESSENTIAL FUNCTIONS: Requires ability to walk and stand during entire work shift. Requires ability to push vacuum, reach, stretch, and bend in routine daily work activities. Requires ability to lift 25 – 35 pounds intermittently during the work day.
Must be able to work a flexible schedule that will include days, evenings, weekends and holidays.